A U.S. Nuclear Weapons Complex Map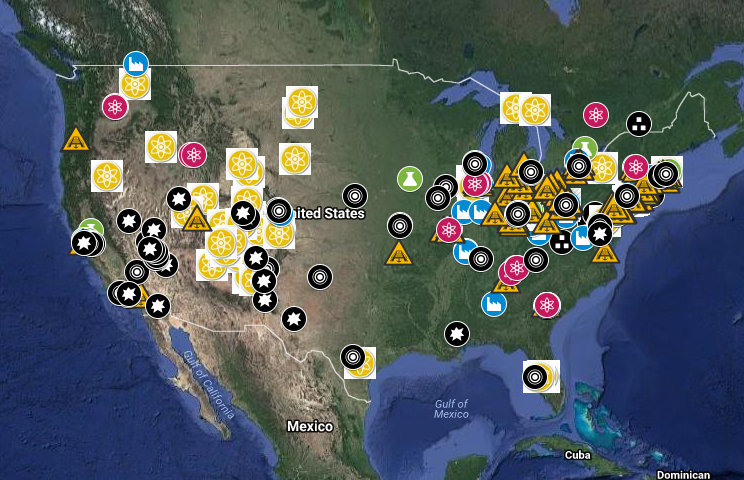 This map contains the important locations of the offices, control centers, mines, mills, plants, laboratories, and test sites of the U.S. nuclear complex from the early 1940s to the present. It was assembled by Dr. Frank Settle, Professor of Chemistry, Emeritus at Washington and Lee University in Lexington, VA, from two sources: The Traveler's Guide to Nuclear Weapons, A Journey Through America's Cold War Battlefields by James Maroncelli and Timothy Karpin, and "Wastelands, America's Forgotten Nuclear Legacy" from the Wall Street Journal by Jeremy Singer-Vine, John R. Emshwiller, Neil Parmar, and Charity Scott.
Locations can be accessed by clicking on their map pins or can be selected from sections in the legend on the left side of the map. The sections are organized to follow the progression of nuclear materials from mining to weapons testing. A unique color code identifies the locations in each section. Page numbers in the "Guide" refer to The Traveler's Guide to Nuclear Weapons, available as a CD ROM from the website identified above. A number of the sites also contain in-depth information from the Atomic Heritage Foundation.
This project is the successor to the Alsos Digital Library for Nuclear Issues, which was a digital library with a vetted, annotated bibliography of over 3,000 books, articles, films, CDs, and websites about a broad range of nuclear issues that was forced to be taken down in 2019 due to security issues. The Library of Congress holds both a digital record as well as a printed record of the Alsos Digital Library.