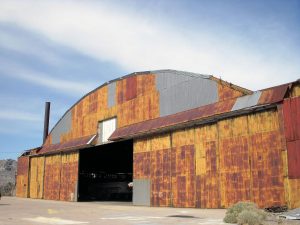 As the home of the 509th Composite Group and the 216th Army Air Forces Base Unit, Wendover Airfield played a key role in the Manhattan Project. Wendover was used by the Air Force until 1969, and in recent years there have been efforts to preserve and restore its many historic properties, including the hangar that housed the Enola Gay during training.
The Historic Wendover Airfield Foundation released a short film on the history of Wendover and efforts to preserve it. The film gives a glimpse into the fascinating history of the base and the crucial role it played in the Manhattan Project. 
Enola Gay Hangar
In early 2009, the Atomic Heritage Foundation nominated the collective Manhattan Project sites for the National Trust for Historic Preservation's list of America's 11 Most Endangered Historic Places. With its colorful Enola Gay hanger and significant local support, the National Trust selected Wendover Airfield as the "poster child" for the Manhattan Project sites in danger of being lost.
On April 28, 2009, AHF's Cindy Kelly participated in an event highlighting the award with several Manhattan Project veterans and Jim Petersen, director of the Wendover Airfield and president and founder of the Historic Wendover Airfield Foundation. Petersen has led the effort to preserve the hangar and other properties at the historic airfield. Thanks to a National Park Service Save America's Treasures Grant, the hangar is now being restored.
Click here to watch a video on the Service Club and the Enola Gay Hangar.