During World War II, American women worked in a variety of jobs to contribute to the war effort. For the first time in American history, millions of women entered the workforce, motivated by a desire to help the Allies win World War II.
In 1942, artist J. Howard Miller created the now iconic poster of a woman factory worker with the slogan, "We Can Do It!" Miller designed the poster for the Westinghouse Electric Corporation to help increase morale among employees. Then in 1943, a popular song about wartime working women was created, titled "Rosie the Riveter," and the name stuck. Some experts have suggested that a woman named Naomi Parker Fraley was the inspiration for the poster, due to her resemblance to Rosie. During the war, she worked as a machinist at the Naval Air Station in Alameda, California. Fraley stated, "I did think it looked like me, but nobody ever mentioned it." Fraley recently passed away on January 20, 2018 at the age of 96.
Today, the image of Rosie the Riveter is associated with the millions of women who worked in manufacturing jobs during World War II, including the thousands of women who worked on the Manhattan Project. Some women scientists conducted key research, while others worked in lower level positions at Hanford, Los Alamos, Oak Ridge, Chicago, and other sites.
Women served as leak detectors, machine operators, technicians, researchers, inspectors, janitors, teachers, welders, calutron girls, secretaries, babysitters, typists, maids, and retail clerks, among other jobs. Women's Army Corps (WACs) service members were also stationed at several Manhattan Project sites. Most women working in these various positions had no specific knowledge of the work they were doing, other than the fact that they were contributing to the war effort. Some women found their first jobs on the Manhattan Project.
Secrecy
Many women describe their wartime work in interviews on the Atomic Heritage Foundation's "Voices of the Manhattan Project" oral history website. For example, Carolyn Stelzman and Colleen Black both worked as leak detectors at the K-25 Plant in Oak Ridge. Black remembered that all of their work was done in secrecy, and that no one asked questions about the pipes they worked on. "We climbed around on the pipes and found the leaks and marked them and sent them back if they were leaking, and sent them on if they were not. You just did not talk about your job."
Roslyn Robinson expressed similar feelings: "A lot of my questions were never answered. No real knowledge saying, 'This is what we're doing.'" Robinson worked as a driver and in the administration offices at the University of Chicago's Metallurgical Laboratory. She explained her reaction to hearing the news of the dropping of the "Little Boy" atomic bomb on Hiroshima: "I thought of all the people who had lost children, families, their houses. It was just too much, and then the fact that I was part of it just hit me in the middle of my head. I wept."
Earning a Paycheck
Stelzman was most interested in earning a paycheck, and putting her Home Economics degree to use, more so than questioning this secrecy: "Of course, we were not to talk about it. I just wasn't interested in talking about what I was doing. It was not a priority with me. I just was interested in the paycheck."
Helen Jernigan cited good jobs as a major reason for working on the Manhattan Project. "I remember it was following the Depression, not too long after, and people were glad to get jobs," she said. "There were many people who had the attitude of patriotism, but there were many people for whom it was the best job they ever had." She first maintained recreational facilities at Oak Ridge, and later became the editor for a weekly local newspaper.
Many working women were seeking employment opportunities and hoped to create a new life for themselves after completing high school. Floy Agnes Lee attended the University of New Mexico, and while completing research, was asked to go to Los Alamos to work as a hematologist. "Los Alamos wanted a biology student or a graduate to come and work in the hematology laboratory. I did not have a job lined up, so I said yes. That's how I got to Los Alamos."
Recreation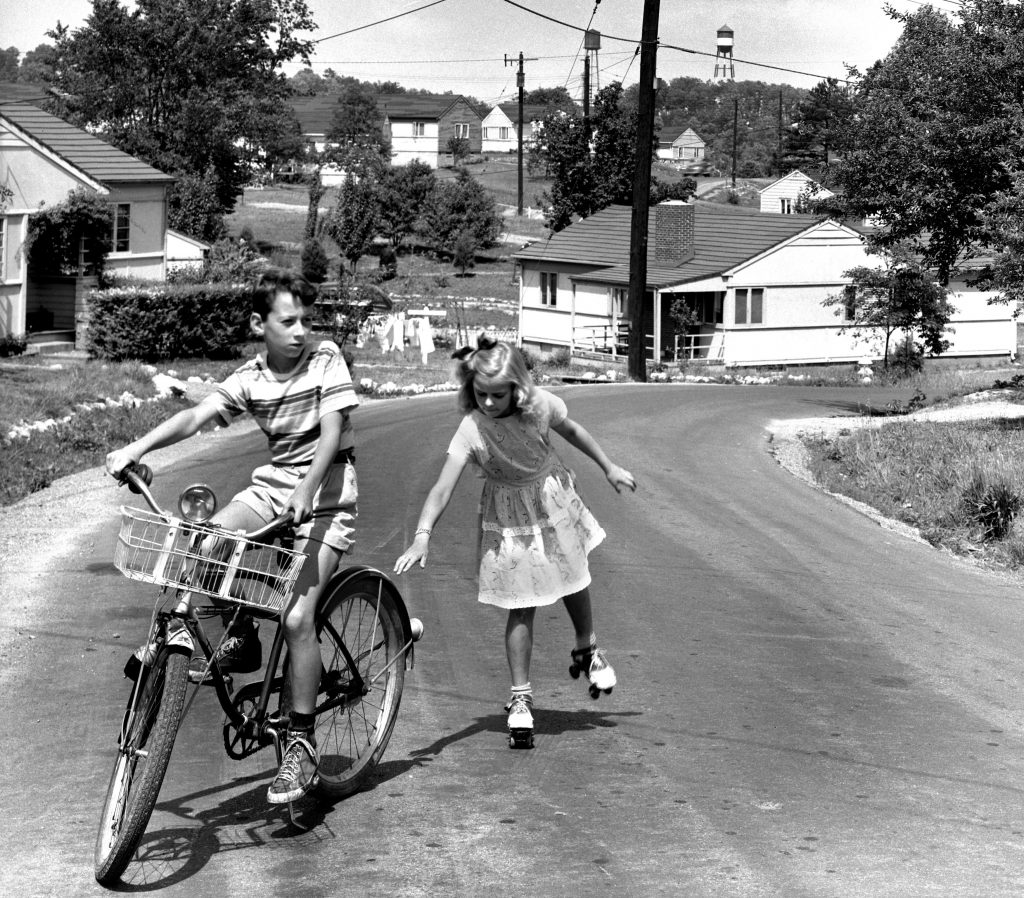 The workers bonded through recreational activities in their limited spare time. Sing-a-longs, attending dances with husbands and boyfriends, watching movies, and participating in shift sports teams were all popular activities. "There were a lot of recreational activities that were fun. I remember having difficulty finding time to sleep because there was so much going on at all times," Lucille Whitman, who worked as a secretary at Oak Ridge, recalled.
Irene LaViolette moved to Hanford with her husband Fred. "I worked at the control lab analyzing the Columbia River water. I was then given the job of checking the new Geiger counters that measured gamma rays." She made lifelong friends and felt her work was meaningful: "I enjoyed myself. We made new friends and I liked my job."
The War Effort
Simply knowing that they were working towards the war effort served as motivation for several women. Esther Stenstrom, a mechanical drawer, described these feelings: "Everybody was eager to get busy and get the war over with as soon as possible. We did what we were asked to do, as far as work was concerned." Clare Whitehead recalled her time at Hanford, where she was initially stationed as a WAC: "I was the first WAC there, and they treated me nice. I was then a secretary for safeguarding military information. After that I worked at the military intelligence offices in Richland."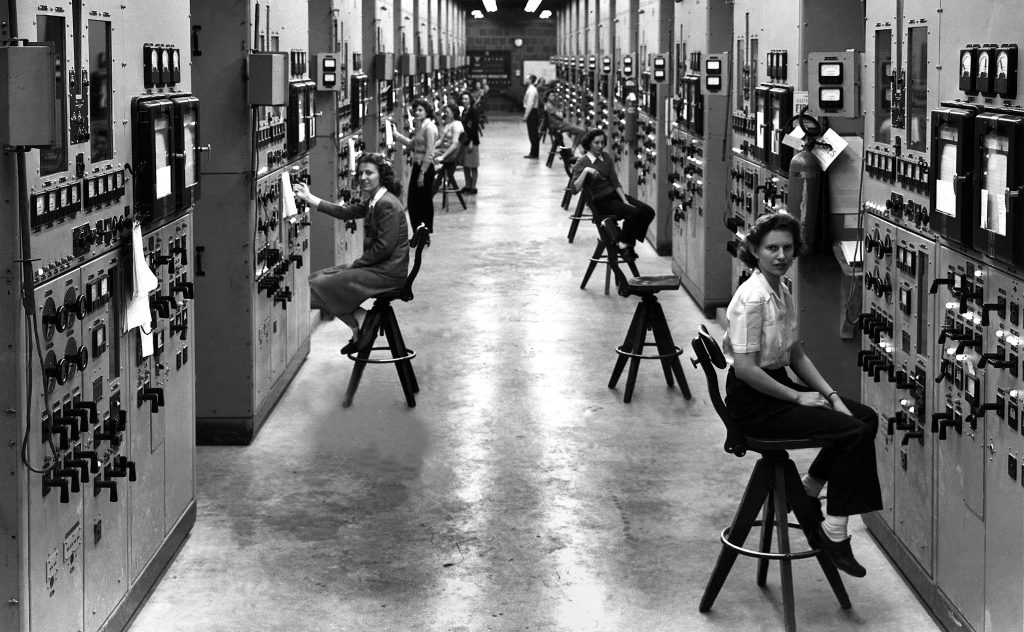 Some young women were recruited by the Tennessee Eastman Company to operate the calutrons, devices used to separate uranium isotopes, at the Y-12 Plant (for more information on the "Calutron Girls," click here). Dorothy Wilkinson went to Oak Ridge eager to work on a war project. "I came right out of high school when I graduated because I had a brother killed on the Arizona at Pearl Harbor. I thought I would like to do something for the war effort. I came here to work, and I got a job and met my husband." Overall, Wilkinson enjoyed her time spent in Oak Ridge and socializing with coworkers and neighbors.
Gladys Evans liked being a calutron girl. "I really felt proud," she declared. Evans felt that learning to operate the machines was not difficult, and she soon became accustomed to her working routine: "I was working on a cubicle. You had a board that stood about ten feet tall, a machine, and it had lots of gauges on it. You had to turn these gauges constantly. You were trying to raise a needle, and you'd have to try to raise a needle up to get the highest production that you could get." She also felt that her work was meaningful: "I wanted to do something for the war effort."
Minority Communities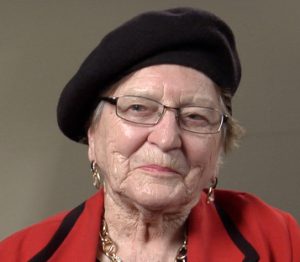 Thousands of African-Americans worked on the Manhattan Project around the country, and hundreds of members of northern New Mexico's Hispano communities and Pueblos found employment at Los Alamos. As a young woman, Lydia Martinez (right) described her career at Los Alamos National Laboratory as a positive experience: "If it had not been for Los Alamos, it would have been hard, because Los Alamos did a lot for people. My memories of the Lab are very good. The people treated me the best I have been treated." Martinez worked as a technician and helped engineers conduct top secret weapons reports.
But others were less sanguine about the Los Alamos laboratory's impact on the Hispano communities and Pueblos of Northern New Mexico. Rosario Martinez Fiorillo grew up in the village of Guachupangue, and her grandparents, Hispano homesteaders, were evicted by the U.S. government for the Manhattan Project. Her older sister worked at Los Alamos, but Martinez Fiorillo chose not to. "I had this horrible feeling inside of me when I was up there," she recalled. "All these people going up and down, all these soldiers. I said, 'I don't like it here.'"
Many African-American women who worked on the Manhattan Project faced discrimination, but many others appreciated the opportunity to earn higher wages. Kattie Strickland, who worked as part of the janitorial staff at Oak Ridge, remembered, "I thought I was rich! All that money." But housing was segregated at Oak Ridge, and because Strickland was African American, she was prohibited from sharing living quarters with her husband.
As Strickland explained in Denise Kiernan's book The Girls of Atomic City, the living conditions for African Americans proved to be difficult. Guards were always present around the African American hutments, or "the Pen," as Kattie and her friends called their living quarters. Fencing with barbed wire separated the women's hutment area from the men's, and guards were present to ensure that men did not try to enter the women's area. Often the hutments were crowded, and Strickland described the food in the cafeteria as unbearable. She resorted to cooking her own food and used biscuit pans made from leftover beam materials. She saw construction workers tossing aside and wasting these beam pieces, so she would ask for them to make her biscuit pans.
Rosie the Riveter Today
The image of Rosie the Riveter now symbolizes the wartime work and sacrifice of millions of women. Although the wartime work of these Manhattan Project women is not often highlighted, their contributions were significant.
Today, the U.S. National Park Service features the important roles of women on the home front in World War II at the Rosie the Riveter National Historical Park and the Manhattan Project National Historical Park, among others.
More Historical Resources:
"Naomi Parker Fraley, Wartime Machinist Linked to Rosie the Riveter, dies at 96"
"Women Scientists in the Manhattan Project"
Denise Kiernan, The Girls of Atomic City: The Untold Story of the Women Who Helped Win World War II (New York, NY: Touchstone, 2013).
Jane S. Wilson and Charlotte Serber, eds., Standing By and Making Do: Women of Wartime Los Alamos (Los Alamos, NM: Los Alamos Historical Society, 1988).