With an agreement signed on June 28, 2019, the Atomic Heritage Foundation and the National Museum of Nuclear Science & History (pictured) are forging a new partnership to preserve the history of the Manhattan Project and the Atomic Age. This significant agreement will ensure that the Atomic Heritage Foundation's extensive collection of oral histories, interpretive vignettes, and articles about the Manhattan Project and its legacy will remain available to the public for the foreseeable future.
Founded in 2002, the Atomic Heritage Foundation (AHF) is a nonprofit organization in Washington, DC that successfully led efforts to create a Manhattan Project National Historical Park. Established in 2015, the Manhattan Project National Historical Park has three sites: Los Alamos, NM, Hanford, WA and Oak Ridge, TN. As founder and President Cindy Kelly says, "Over the past two decades, AHF has created a broad array of educational and interpretive resources on the Manhattan Project. We are delighted to partner with the National Museum of Nuclear Science & History to ensure that AHF's online resources remain available to audiences worldwide."
Museum Director Jim Walther is equally enthusiastic. "AHF's websites will greatly enhance the Museum's online presence. We intend to make full use of the content to enrich our education programs and the museum's interpretive displays. AHF's partnership perfectly complements the Museum's strategic plans for the future."
The partnership with the Museum is very timely. After 17 years, AHF is closing its physical offices in downtown Washington, DC. With less than 3 percent of World War II veterans still alive, AHF has seen its base of Manhattan Project supporters dwindle over the past several years. With foundations favoring current weapons policy and advocacy organizations and little government support, AHF has found it increasingly difficult to sustain a fully staffed office in downtown Washington, DC.
AHF will continue to be managed by President Cindy Kelly who plans to work with the Museum on the transition and selected projects. Kelly comments, "I have personally enjoyed working with Museum Director Jim Walther for nearly 25 years and look forward to continuing our partnership."

For nearly two decades, AHF has recorded hundreds of oral histories of Manhattan Project veterans and published dozens more discovered in university and private archives. AHF's goal has been to engage diverse audiences, especially younger generations, in learning about the Manhattan Project. Through first-hand accounts and programs on YouTube, AHF has successfully attracted a very youthful audience with over half under age 35. Last year, 1.6 million people accessed AHF's online resources. AHF's website audience continues to grow at rates over 30 percent per year.
With a robust summer camp and science education programs, the Museum welcomes AHF's audio/visual programs on scientific innovations that are part of the "Ranger in Your Pocket" series. Museum director Jim Walther observes, "Incorporating AHF's resources into the Museum's current and future educational programs will be especially valuable for middle and high school students."
As Richard Rhodes, Pulitzer Prize-winning author and AHF Board Member writes, "The Manhattan Project was tragic, ironic and epic, but most of all intensely human." To capture the humanity of the Manhattan Project, AHF has published nearly 600 oral histories on the "Voices of the Manhattan Project" website. The website includes interviews with J. Robert Oppenheimer and General Leslie Groves, the project's scientific and military leaders, as well as with hundreds of others including women, Native Americans, African-Americans and Hispanos whose stories are often overlooked.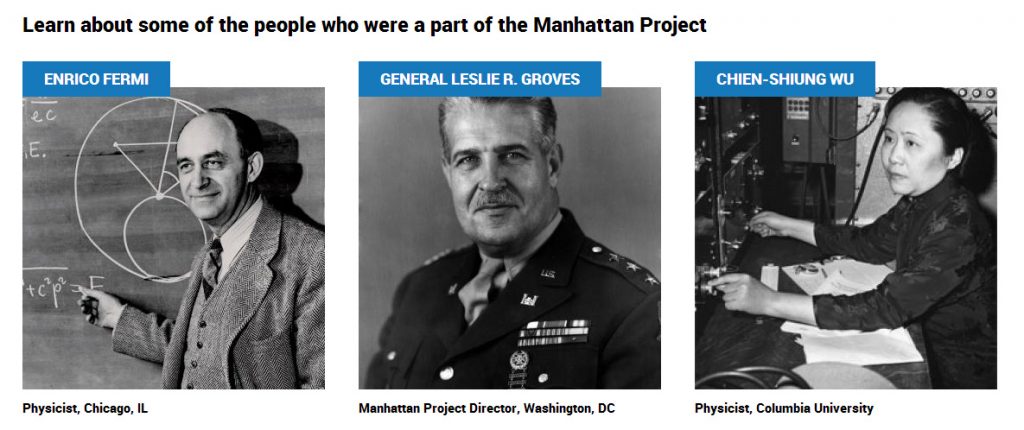 AHF's main website has hundreds of pages of articles on the history of World War II and the Manhattan Project. One of its most popular features is a database of Manhattan Project participants. Because the Manhattan Project was a top-secret effort, the government did not keep public records. AHF's directory of 14,000 Manhattan Project veterans is extremely popular online. The Museum is considering having a kiosk so that visitors can search for relatives and others who were part of the project.
AHF and the National Museum of Nuclear Science & History have just begun to explore the many ways in which their partnership can benefit the public. Founded in 1969 and chartered by the U.S. Congress, the Museum is dedicated to preserving the scientific, historic, and cultural aspects of the Atomic Age. Since 2009, the Museum has been at 601 Eubank Boulevard on several acres of land in Albuquerque. Surrounding the museum's modern building are a B-29 bomber, several rockets and a recreation of the 100-foot Trinity Tower.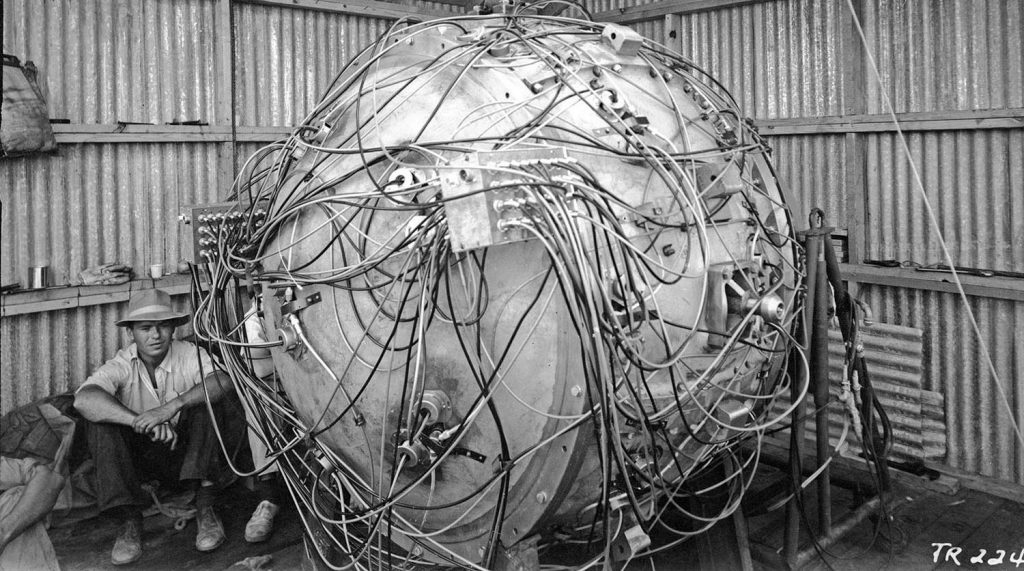 As one possibility, in the future visitors might be able to stand under the tower and listen to one of AHF's oral histories with Lilli Hornig. A chemist on the project, Lilli talks about how her young husband Donald F. Hornig spent the night of the Trinity test atop the tower in a metal shack, babysitting the "Gadget" (pictured) while lightning and violent thunderstorms passed nearby. Hornig concluded that if lightning set off the bomb, "I'd never know about it! So I read my book."
As one of its first projects, the Museum hopes to upgrade and integrate AHF's and its own websites. Over time, the Museum hopes to expand the oral histories to include those of Cold War veterans. As Jim Walther remarked, "We are very excited to explore all the possibilities of this new partnership with AHF. It is a fortuitous development with great potential for the Museum and for the preservation of the Manhattan Project history."